about: Jeff Hoffman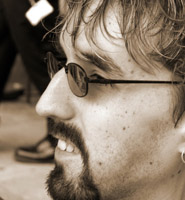 I'm an entrepreneur who has spent the last 12 years of his life doing graphic design, writing software for both the desktop and the web, and designing various web applications. I live in Charlotte, NC, where I'm working dilligently to produce the best personal productivity web service…ever.
In my free time, I enjoy listening to great music, cooking, learning new things (I'm always absorbing), psychology (I'm a certified hypnotist), and watching a few good shows, movies, or football games on television.
I organize the Attraction Marketing in Charlotte meetup, and am a big fan of Eben Pagan, Frank Kern, and other top Internet marketers.
You can email me at jeff [at] nuancelabs.com.
JEFF'S FLICKR STREAM